Double Your Warehouse Work Efficiency with the Revolutionary BYD Forklift

We all know how hard it is to carry boxes and crates in warehouses and store or transfer them. And that's why Forklifts are used. But typical forklifts come with numbers of drawbacks including expensiveness, time consumption, everyday battery issues, poor ability to handle the load and so on. The usual forklift indeed performs the task necessary in a warehouse or storage. But it is hard to maintain and consumes a lot of energy to lift and transport boxes. To tackle that problem we have acquired an ultimate solution which is our BYD Forklift.
With this game-changing technology, you will definitely up your warehouse storage game by multiple folds. And you will never have to worry about the efficiency of your warehouse progress.
Game Changing BYD Forklifts:
Unlike traditional forklifts, this high tech Forklift does not complain when performing heavy-duty tasks. The new BYD Forklift has the potential to revolutionize the way storage and other warehouse tasks are carried out. Let's see how this advanced technology is better than the traditional and old forklifts.

Highly Cost Effective:
Buying a forklift is easy but affording it can be a real pain. Even the monthly maintenance of a forklift can cost you hundreds of dollars. The actual problem is with the maintenance and affordability of the Lead Acid Battery which is embedded in a Forklift. It can cost you thousands of dollars in replacement and energy consumption.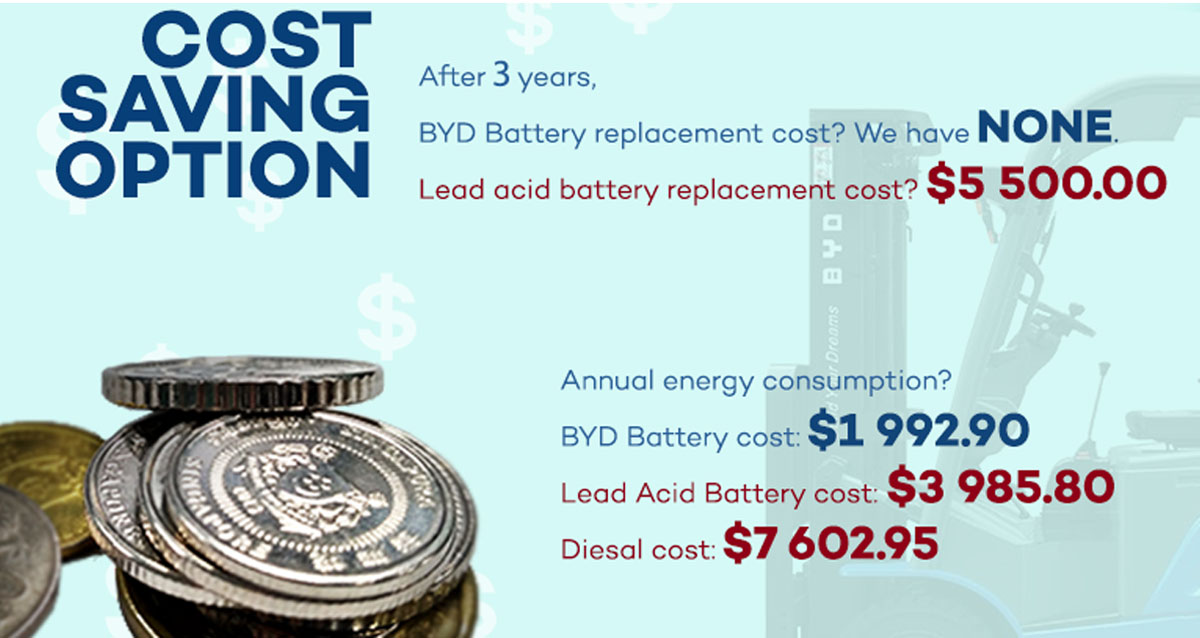 On the other hand, our BYD Forklift can save you all the hassle of monthly and yearly maintenance. It has a Lithium Iron Phosphate battery which does not need replacement and most importantly maintenance. Moreover, it is very light in terms of energy consumption while providing an output that is way better than a traditional Forklift. Here's how our energy and cost efficient battery saves you thousands of dollars.
Normally a battery is replaced after every 3 years to allow the forklift to function properly. And the replacement cost of a Lead Acid battery which is commonly used for all forklifts is S$5500 in Singapore.
But in our BYD Forklift, there is no need for battery replacement.
Because it is equipped with a powerful Lithium Iron Phosphate battery. And due to its low energy consumption and high power capacity, it does not need any kind of replacement. So you will be easily saving $5500 after every three years.
Secondly, the yearly energy consumption cost of a forklift on an average is S$3985.80 per year in Lead Acid Battery. Similarly, the energy consumption cost of Diesel Battery which is also used in forklifts is S$7602.95 per year. It means that you will not only have to go through the hassle of taking out the battery and transporting it for replacement or maintenance. But it will also cost you thousands of dollars per year.
But our BYD Forklift which is cost and energy efficient only costs S$1992.90 per year in terms of energy consumption.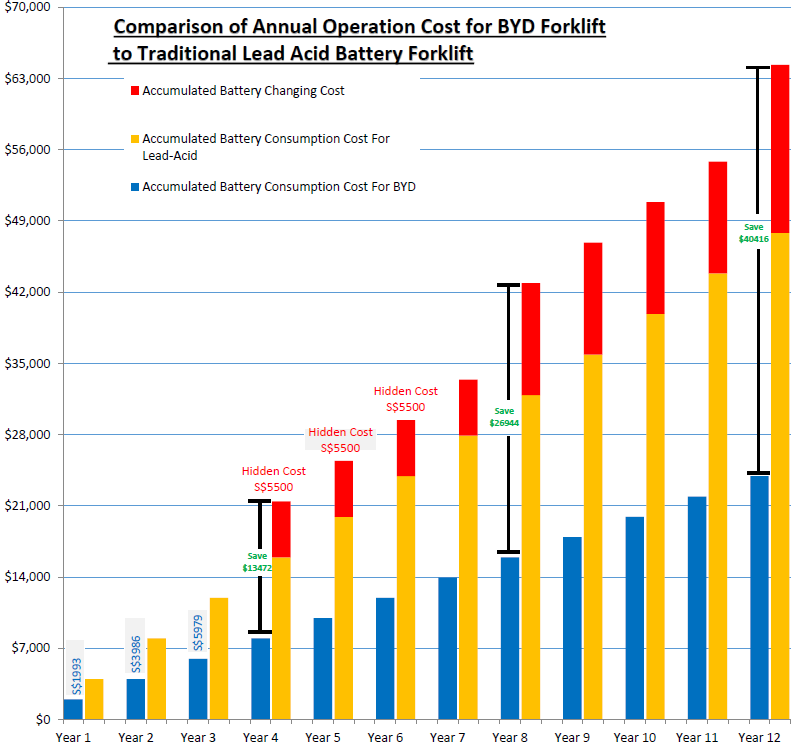 Advanced Battery System:
The Lithium Iron Phosphate battery in BYD Forklift has been carefully engineered to be energy efficient as well providing the user with smooth battery timing. The problem with the hiccups that an ordinary Forklift takes is due to the need for maintenance of its battery. And that requires battery water filling. But that problem is solved in the high tech BYD Forklift. It means that there is no water filling system in it. And that also allows it to save S$200 yearly which is originated from battery water consumption cost in a typical Lead Acid battery.

Furthermore, the BYD Forklift has a powerful and long-lasting rechargeable battery. That you can easily charge during any time of the day in just 1 to 2 hours. And after charging your BYD Forklift will be operatable again.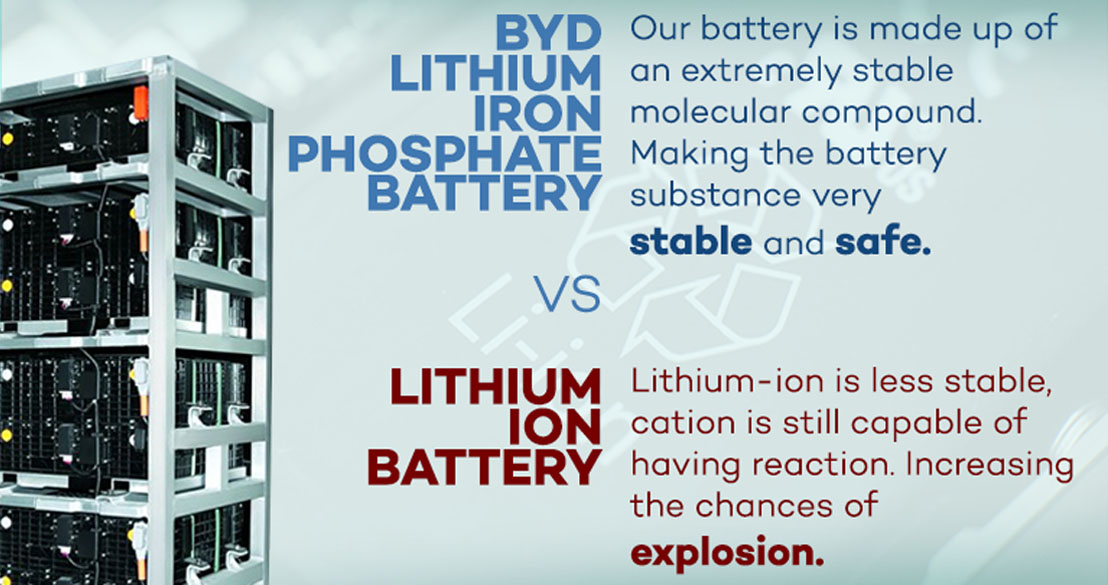 In terms of stability, the Lithium Ion Battery consist of cations, resulting in a higher chances of it forming a reaction with other chemical substance, resulting in explosion. While the BYD Lithium Iron Phosphate Battery is made up of an extremely stable and safe molecular compound. Which makes the battery very stable and safe to use.

Eco-Friendly:
While designing the BYD Forklift, eco-friendliness was highly considered. The BYD is specially engineered with no corrosive metal, which results in environmental friendly emission from the Forklift. Furthermore, The Lithium Iron Phosphate Battery has no acidic properties and has no unstable cations which ensure the safety and health of the workers working around. This is why it is The Future Forklift.
Currently we provide:
FREE ON-SITE DEMO
You do not need to made any payment or commitment, we will just deliver the truck to your site and let you use it over a period of time. We are certain you will be convinced by it.
Contact us today at 65423885 or email kennyloh@yktoh.com .