Los Angeles placed order of 60 new BYD all-electric buses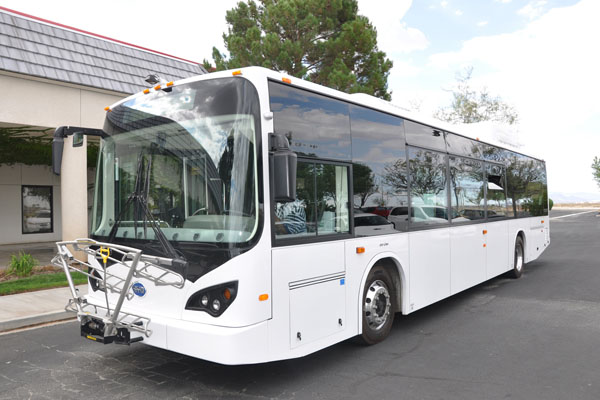 A good transportation system is the backbone of any economy and no doubt great strides have been made by the US to ensure that their system is standard for effective and efficient conveyance of people, product and services within America. In a bid to further improved the transportation system in US, Los Angeles Metro and BYD just unveiled the official order of 60 new 40-feet BYD electric buses. This will boost the transportation system in US which is believed to be the biggest sector in the US. Furthermore, the introduction of 40 fit electric buses in Los Angeles came as a great hope and encouragement to local manufacturers owing to the fact that BYD has an electric bus and truck division based in Los Angeles. Amazingly this new order is expected to create more than 59 new jobs at the division of BYD Company in Los Angeles which could be describe as a win-win situation not only for the people living in Lancaster but USA as a whole.
The introduction of 60 new 40 fit electric buses would help to ease the transportation of people, goods and service in a more effective and efficient way linking major communities of great economic importance. In view of this, Los Angeles Metro has taken the bold step to electrify the silver line bus service, which certainly runs throughout the country. Silver line bus has been chosen owing to the fact that it connects cities of great productivity such as E1 Monte, Los Angeles, South and San Pedro. This route does not only have economy importance only but also agitate for significant environmental justice. This electric bus is expected to eliminate air pollution that is normally associated with the diesel and fuel buses. Therefore, with the introduction of electric bus improved quality air around cities of operation is non-negotiable.
It is quite interesting to know that this electric is equipped with great features which include 324KWH battery packs with lithium iron phosphate battery cells, which can be charged in less than 4 hours using BYD's 80kw charging stations. Also, it enables 160 miles distance covering most routes. This bus is designed with 40 seat passengers with a top speed of 62 mph. The durability and functionality of the bus is second to none owing to the fact that the energy capacity adds up faster, hence with 60 buses BYD will be deploying approximately 20 MWh of batteries for the order. However, BYD 40-fit electric bus is not the supreme as there are also 60-fit electric bus which has 275 miles range with 547 kWh battery pack. Without any iota of doubt electric buses are fast becoming popular not only in US but the world at large owing to the fact that BYD and Proterra have been working tirelessly to maintain the leading edge in the industry. Also worthy of note is the fact that Proterra recently raised $55 million for the future expansion of electric transit for the benefits of mankind in general.