São Paulo Mayor visits China's BYD, praises green initiative
SHENZHEN - The mayor of São Paulo, Brazil, João Doria visited BYD Auto's headquarter at Shenzhen for a dialogue on BYD's integrated new-energy solution and BYD's future investment in developing São Paulo.
The mayor of Sao Paulo, João Doria had a discussion with the BYD Auto Co. Ltd's Chairman Wang Chuanfu.
As of today, BYD has built a comprehensive zero-emission new-energy ecosystem by gaining, storing and utilizing the energy, forming a closed-loop industry chain of solar energy, energy storage, electric car and rail transport. This strategy is applied in the company's global strategy, while Brazil is one of BYD's focuses in the recent years.
Mayor Doria has had a more in-depth understanding into of the Chinese automobile company's development status in each of its industry and complemented its Great Green Transportation solution. After experiencing the "Cloud Rail", Mayor Doria indicated that the Shenzhen's"Cloud Rail", which flawlessly incorporates new energy in rail transport, is an amazing solution to cities with bumper-to-bumper traffic like Sao Paulo. The city can adapt this system to tackle its traffic congestion and air pollution problems in the metropolitan areas.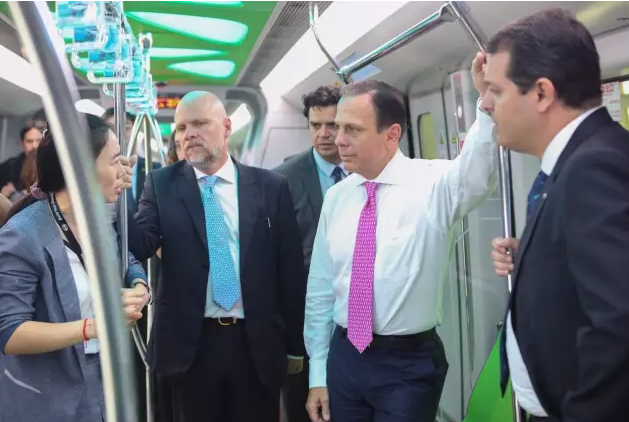 Mayor of São Paulo, João Doria experienced "Cloud Rail" at BYD's headquarters.
BYD's Hard Work Paying Off
Against the backdrop of the "Go Out" Policy initiated by the Chinese government, BYD's overseas expansion strategy not only successfully in "going out", it also managed to "go into" (the foreign market). BYD started to expand its Brazilian market in 2010 and have become more experienced in marketing and operation, leading towards a more strategic industrial planning in the renewable energy sector.
In July 2015, BYD released its first 10 12-meter long and four-doors pure electric buses, which are customized according to the Brazilian market, in Campinas, Brazil. Two years of operations have reaped positive feedbacks and applaud from local government and operators. In April 2017, the company expanded the business by adding a solar photovoltaic factory and an electric bus chassis assembly in Brazil. Some RMB 33.1billion investment on the solar panel factory created 360 jobs directly to the locals and is expected to generate 200MW per year. Moreover, the establishment of electric bus chassis assembly line would localize the manufacturing process and is expected to create more than 160 jobs. Meanwhile the first pure electric bus - a joint production of BYD and CAIO, Brazilian bus body manufacturer - will begin its operation in São Paulo.
Besides investing in research and manufacturing, BYD has also partnered with local businesses to expand its market in Brazil. Partnering with local businesses also helps in localizing BYD's research and manufacturing effort of its industrial planning in Brazil. In June 2017, BYD signed a memorandum of understanding on the intent of collaboration with the University of Campinas, which lay out a plan for BYD to invest 5 million reais (around USD 1.51 million) in building its first overseas solar energy research centre in the university before 2020. This centre will conduct research to develop solar energy products and technology.
Support from Brazilian government for mutual benefits
Recently, the Brazilian government is proactive in attracting foreign investment through preferential policy such as tax cut. São Paulo is the biggest city in Brazil and Latin America. It's economy and market are also the biggest in the region. Due to its enormous potential for development, the city has become BYD's target to further expand its market reach in Brazil and Latin America.
"Support from the government has been instrumental in developing the city's economy. São Paulo will continue to excel in Brazilian market by bringing in more Chinese-made green products and creating more jobs for the locals," said Li Tie, the General Manager of BYD's office in Brazil.
São Paulo is not only Brazil's biggest city and economy, it is also the traffic hub, connecting the North and the South with its highly integrated roads and highways. However, there are too many cars in the city, which put a burden on the traffic. The city government has also started to pay attention to pollution problems due to high emission of exhaust fumes. The purpose of the mayor's visit to Shenzhen is to understand its successful experience of implementing electrical public transport, with the hope of bringing back the Shenzhen's model to Brazil to build on São Paulo's effort in promoting environmental-friendly and sustainable development.