Latest Innovation in hand truck market, Mystar M03-MH501, by Prestar Resources Berhad, Malaysia.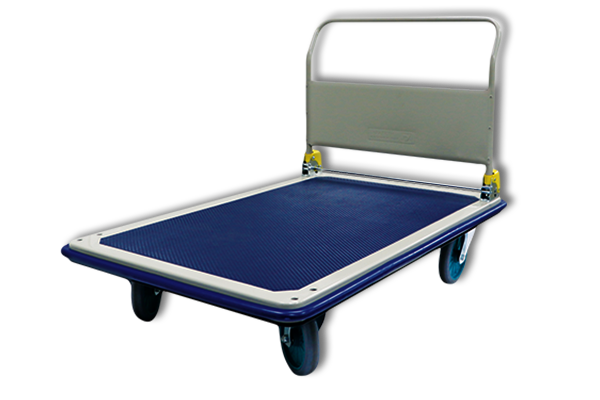 The new M03-MH501 is a 500kgs hand truck with the latest technology introduced in the market for better performance and to enhance efficiency in transporting goods. The castor is by far the best with lesser friction therefore lesser strength needed in handling the hand truck. It is introduced in early March 2017. With the biggest platform in the industry it is capable to load more items to optimize every single trip of transportation.
It can last more than its previous version of M03-MS201 and M03-MS301, in terms of Max load of up to 500kg and a higher height on its handle. The most important of all is the castor, which is the key to this innovation. With the latest technology, the rolling friction is at its minimum.
When interviewing one of the Director of Prestar Resources Berhad, Mr Sunny Toh Yew Chin, stated "That this new innovation is derived from the research done on the market. And this revolution is for the sake of meeting what most of the user needs, be it the user themselves or the employer themselves. When our research team went into the market study. We noticed few problems that usually arises when a bad hand truck is been purchased and used by the end user. Firstly is user when using the hand truck always try to squeeze as much item onto the truck as possible. As they want to cut short the amount of trip made. But having a small platform means not much items can be placed. Other than short of space to place the product, is the capability of the hand truck lasting more weight. Usually hand trucks break easily when it is over its max load weight. The castor that isn't smooth usually will cause the user to spend more strength into pushing the hand truck. Then here comes the critical problem to most business, which most employer is facing. Having more strength into pushing the load means chances and risk of injury is increase. Why I mentioned most critical problem faced by employer is because when the user which is the employee get injured. They usually will take medical leave and this would jeopardized their work and the whole business operation. So a good hand truck is important to both business and the user".
When asked Mr Sunny Toh Yew Chin, how is he seeing the future of this hand truck. He confidently says that Mystar M03-MH501 is going to be the most wanted hand truck in the market. He believes it is going to be highly demanded both in the South East Asia and Europe market, as immediately after it launched, they had been more than over 350 units of shipment going out.

To enquire contact us at enquiry@yktoh.com or 65643232.