A boltless shelving rack also known as boltless racking system is an ideal solution for every storeroom rack. It is not just easy to put together, the boltless rack is highly adjustable to your very needs. From HDB bomb shelter to the office storeroom, this rack will find many uses; with every single shelf having the capability to hold up to 400 kg which is standard for storeroom rack.
The "MYSTAR BS5000 Boltless Shelving" comes in the height of 1.80m and more with basic four shelves or optional to add more. The boltless racking system is designed so that the bottom and top shelf give you extra storage space while at the same time holding the rack firmly together. This rack will never wobble nor fall over. This boltless shelving rack was built with the user in mind.
Most people will find, that the rack, when delivered is easy to assemble. – An in-depth instruction is provided with the product. All you really need to do is following the instruction step by step. In a few minutes, you are ready to fill your new boltless shelving rack with all the items needing a secure and reliable place.
Since each metal shelf unit can be divided into two or three parts, it is easy to put items into the shelf which actually need the height of two shelf units. Just take one compartment out and voilà, here you have enough room to store a higher item.
When needed you can adjoin several boltless shelving racks. A quick and easy fix for every storage room. For household usage of storeroom rack, MYSTAR Boltless Rack is your ideal choice.
For light-duty storage with maximum capacity of 400kgs/level, this boltless shelving system is the recommended choice.
Using bolt-free connection, it is easy to assemble and is highly versatile.
It's easily customizable with adjustable height for supreme utilization.
·
Reinforced Design (APH & DRB)
·
More "key holes" = More levels
·
Beige Epoxy Powder Coating for protection against corrosion and scratches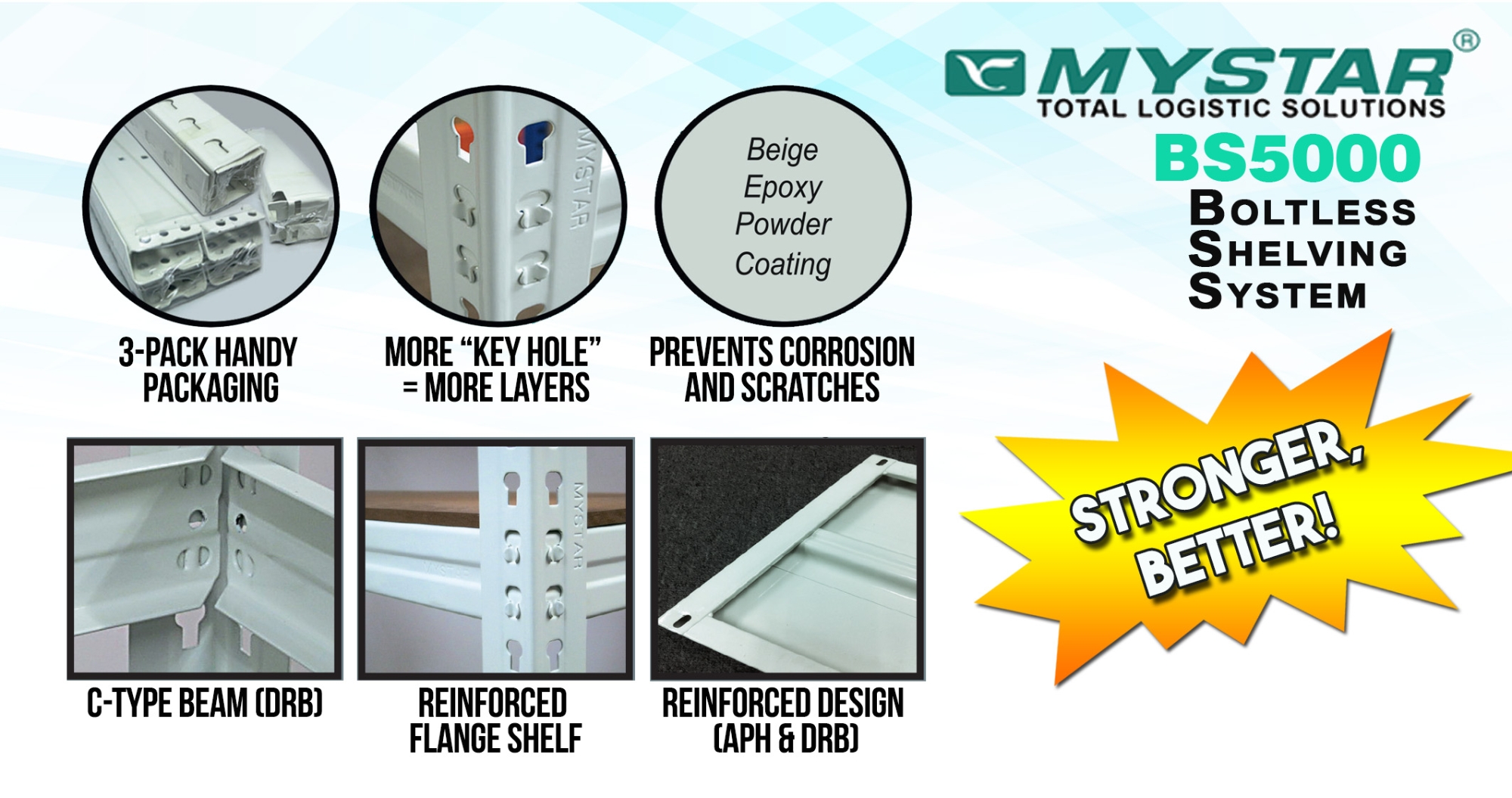 Multi Usage:
3rd Party Logistics, Automobile Service Center, Bank, Sundry Shop, Factory, Hotel, Household, Hardware,
Office, Restaurant, Retail Outlet, School, Salon/Spa, Warehousing, and many more…
Fibreboard Shelving is also available here.